Nancy Dodd Lindsay Peck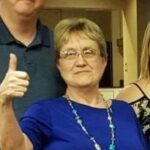 Yorktown, Va. – Nancy Dodd Lindsay Peck, 74, passed away Wednesday, April 15, 2020. Nancy was a native of Augusta County, Virginia and former resident of Gloucester before moving to Yorktown, in 1997.She worked for Southland Corp from 1985 until she retired in 2013.
She was preceded in death by her husband of 29 years Richard Henry Peck and survived by her children, Gregory Peck, James Peck and Sherri Salmon (Dennis) a sister Bonnie Sue Knutson and two grandchildren, Danielle Peters and Brandon Peck.
Services will be private. Memorials may be made to the St. Jude Children's Hospital, 501 St Jude Place, Memphis, TN., 38105. Arrangements by Amory Funeral Home, Grafton, VA.