Morgan "Chip" Blake, Jr.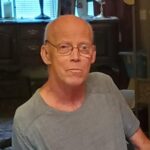 Morgan "Chip" Blake, Jr. passed away on Monday, July 5th. He is preceded in death by his parents, Annie A. Blake and Morgan E. Blake, Sr. and his by his best buddy of 17 years, Kudzu.
He is survived by his sisters, Jane Brown of Williamsburg, Kim Wilson (Dale) of Yorktown, and Elizabeth (Bitsy) Shawkey (Dan) of Mount Pleasant, SC. He is also survived by many nieces and nephews.
He was born in Williamsburg, VA, graduated from Bruton High School and was a member of the Williamsburg Fife and Drum Corp for ten years.
Chips love if of animals was his greatest passion. If you wish to honor his memory please do so by giving to your local animal shelter.
We truly appreciate all you have and are doing for our family.