Michael William Smith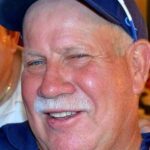 Yorktown, Va. – Michael William Smith, 65, also known as "Whale" "Smitty" and "Pops" of Yorktown, Virginia passed away on Thursday October 14, 2021 after a long, hard battle with heart and kidney disease. He was born in 1956 in Stamford, Connecticut, the third child of William and Myrtle Smith.
Michael graduated from Tabb High School in 1975. He attended Atlantic Christian College in Wilson, North Carolina. He was employed as a senior utility locator at Lamberts Cable Splicing.
Michael's main passions in life were his family, friends, baseball and golf. He was an avid baseball card collector. He was a respected baseball coach and umpire and could be found on the field prior to games ensuring everything was ready to "PlayBall".
He is preceded in death by his father, William L. Smith, Jr. and is survived by his mother, Myrtle Smith; siblings Robert (Laurie) Smith, Cindy (Mike) Barbeau and Catherine (Allan) Rosing; sons, Mikey (Claire) and Andy (Ardie) Smith; grandchildren Ashleigh, Jacob, Joshua, Halle and Paisley.
Donations can be made in Michael's memory to York County Little League, P.O. Box 1730, Yorktown, VA 23692 or American Kidney Fund, 11912 Rockville Pike, Suite 300, Rockville, MD. 20852.
Arrangements by Amory Funeral Home, Grafton, VA.