Michael Via Joyce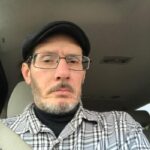 Yorktown, Va. – Michael Via Joyce passed away on December 31, 2020.
Michael was born in Fredericksburg, VA on February 16, 1966. Michael worked in the construction field and owned and operated Joyce Clearing and Grading for many years.
Michael is survived by his wife of 23 years, Kathleen; his 2 daughters, Samantha Jennings and her husband Caleb, and Han Joyce and her partner Rachel Cain. Mike is also survived by his 2 sisters, Elizabeth Ethridge and her husband Walter, and Charlotte Herndon and her husband, Dennis. Mike was the loving grandfather of 3; Valerie, Uriah, and Josiah.
Mike was the Uncle of 9 nephews and nieces; Christopher Ethridge, Mark Ethridge, Sarah Griffith, Jennifer Martinez, Philip Joyce, Benjamin Christopher, Abel Christopher, Elizabeth Gagnon, and Zachariah Christopher, and 14 great nephews and nieces. Mike was preceded in death by his parents, Philip and Elizabeth Joyce, and his 2 brothers, Philip Joyce, Jr. and Walter Joyce.
The family will be forever grateful for the compassion showed to them by the York County Department of Fire and Life Safety and the York-Poquoson Sheriff's Office.
Services will be private. Arrangements by Amory Funeral Home, Grafton, Va.