Michael Douglas Wratchford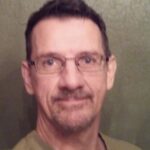 Michael Douglas Wratchford, born September 29, 1961, passed away on March 25, 2021, at the age of 59. Michael was born and raised in Moorefield, West Virginia. Michael is survived by his siblings, Marvin James Wratchford, Allen Ray Wratchford, Steven Caldwell Wratchford, Judy Ann Wratchford James, Carol Sue Wratchford Zirk and Mary Catherine Wratchford Berg. He was predeceased by his mother Clara I. (High) Wratchford, father Moses B.C. Wratchford and nephew Lester A. Wratchford.
After graduating from high school Michael moved to Hampton Roads and lived there for the remainder of his life. He was a talented artist, creative and inventive and could fix almost anything. He offered his help and expertise freely to those around him. He was accepted for who he was and loved for it. He also had a playful side and loved to prank people. Michael will be remembered and missed by many who crossed his path. He was a loving and caring soul and those that knew him will hold him near and dear to their hearts forever. Your family and friends are saddened that you are gone but know that you are safe and free from the troubles of life. You leave us with lasting memories to cherish until we meet again.
It is Michael's wish to be cremated and his remains interred in the ground plot with family in Green Hill Cemetery, Purgitsville, West Virginia.
Michael will have two celebrations of life. One with his family in West Virginia and another with his friends in Hampton Roads. Of course all family and friends are welcome for both celebrations whenever they will be held.
To donate to a cause that Michael participated greatly in go to www.lgbtlifecenter.org.