Michael Clements West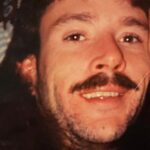 Yorktown, Virginia
Michael Clements West, 50, a native of Hayes, Va., peacefully passed away on Wednesday, April 28, 2021 after a long, courageous battle with cancer. Michael attended Gloucester High School, made his living as a painter/drywall hanger/finisher and was meticulous in his work. He enjoyed fishing, martial arts (especially Kung Fu) and could shoot a mean game of pool. Always having a joke to tell and a willingness to help his friends, Mike knew no stranger and was a blessing to all who had the privilege of calling him a friend. He is preceded in death by his father, Roamie Clements West and his mother, Nellie Sadler Hilker.
He is survived by his daughter Lacey West, his son Cameron West, their mother Lisa and brothers David (Karen), Richard (Nikki), nieces Cassie, Taylor and Tori, and his special friend/caregiver Nia Carpenter.
A host of friends will cherish his memory including previous employer and friend Tim Hux with Absolute Painting & Home Repair.
A celebration of life will be determined and held at a later date. Arrangements by Amory Funeral Home, Grafton, Va.