Mavis Jessica Kessler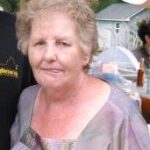 Mavis Jessica Kessler, 86, passed away peacefully at home on Monday, July 4, 2022. Mavis was a native of London England. Mavis was preceded in death by her husband Charles William Kessler. Mavis is survived by her children, Charles Kessler (Virginia), Gary Kessler (Carol) and Phillip Kessler (Lori); grandchildren, Aislynn, Kelsey, Trent, Kurtis (Hollee), Jeff (Cassie), Zackory and Kayleigh (Greg); great grandchildren, Ryker, Warren and Bruce. She is also survived by her youngest brother David Harcus (Susan) of Margate, England. She also leaves behind her beloved rescue dog, Lana.
Memorials may be made to Virginia German Shepherd Rescue or St. Judes Children's Research Hospital.
Service will be private. Arrangements by Amory Funeral Home, Grafton, Va.