Maureen McGoey Gould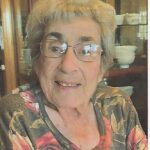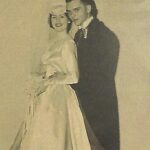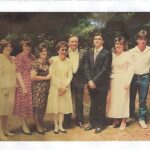 Gould, Maureen (nee McGoey) of Poquoson VA passed away peacefully at home, surrounded by family on Friday, March 4, 2022, at the age of 81. She was born to Matthew and Rita (nee Markey) McGoey on November 17,1940 in Manhattan, NY. She is a 1958 graduate of St. Catharine Academy. She was a longtime resident of New York and Virginia.
She was united in Holy Matrimony to the love her life, Francis Gould, on October 1,1960 and they started their family that included 7 children. Maureen was a devoted mother, she was active and for many extracurricular activities and sports her children were involved in. Maureen was a longtime member St. Patricks Catholic Church, the Woodbury Volunteer Ambulance, and Women of Woodbury. Lifelong hobbies included sewing, knitting, cooking, and gatherings with friends. Her biggest joy came from her family.
Maureen is preceded in death by her husband of 34 years, their daughter Pamela Gould, her parents, her siblings James McGoey, Matthew McGoey and Kevin McGoey, her son in law Peter Haberman, and her niece Linda Valentine.
She is survived by her children, Joseph (Denise) Gould of Langhorne PA, Cathleen (Louis) Tunno of Westbrookville NY, Maura Haberman of Westford, MA, Kelley (Thomas) Rutter of Poquoson, VA, Christine (Justin) Rodriguez of Unionville, NY and John Gould of Denver, Colorado.
She is survived by her grandchildren Kara Gould of Binghamton, NY, James Gould of Downingtown, PA, Timothy Prisk of Hollywood, CA, Erin Prisk of Westford, MA, Bridget Prisk of Worcester, MA, Sean Prisk of Pepperill, MA, Patricia (Allen) Koederitz, Francis Rutter, Joseph Rutter, Cathleen Rutter and Jonathan Rutter all of Poquoson VA, Ryan Rodriguez, Lily Rodriguez, and Ethan Rodriguez all of Unionville, NY.
She is survived by her Great Grandchildren Olivia and Amelia Olivares of Westford, MA, and Mila Koederitz of Poquoson VA.
She is survived by her siblings, Kenneth McGoey of Palm Coast, Fl, Eileen Valentine of Cromwell, CT, Sheila Harris of Denver, NC, Patrick McGoey of Asbury Park, NJ, along with a host of cousins, nieces, and nephews.
To honor Maureen, the family requests that you sit down as a family and eat dinner together more, and enjoy each others company as much as you can.
A Funeral Mass will held at 10 am on Monday, March 7, 2022 at St. Joan of Arc Catholic Church in Yorktown VA.