Matthew James Zupko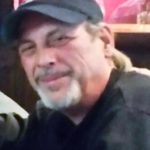 Matthew James Zupko, Sr., 53, passed away on Wednesday, August 21, 2019. Matt was born in of Salisbury, Maryland and a peninsula resident since 1981. He attended Denbigh High School and was a self employed drywall installer for many years.
He was preceded in death by his father Donald A. Zupko and a brother Curtis Zupko and is survived by his son, Matthew James Zupko, Jr. and his mother Liz Bowman along with his sister Joann Marie Allen (Barry) and three granddaughters.
A memorial service will be held at 4:00 PM on Saturday, August 24, 2019 in Amory Funeral Home Chapel. Memorial may be made to Amory Funeral Home, P.O. Box 1026, Grafton, VA. 23692.