Mary P. "Marie" Wilhelm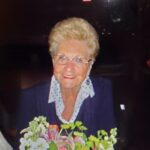 Mary P. Wilhelm, "Marie," 87 years old, passed away peacefully at home Monday, February 13, 2023. Marie will be remembered as a woman who was full of life and love. She was born in Newfoundland, Canada. Although she left at 17, she considered "The Rock" her true home. Marie was an Army wife. She traveled and lived throughout the United States and Europe, in Colorado, Hawaii, France and Germany. Marie was a hard worker and retired at 72. Whether as a hostess at the officers club, selling Sarah Coventry or Avon, running the desk at the bowling alley, or tending bar – her ability to laugh, smile, and tell a joke or a story – drew people to her. She loved people and had many friends. She was beautiful and loved to dance, clean, eat out, gamble, crochet, play pinochle, and shop, oh yes, shop as she was very fashionable. She spent almost every Friday night with her bowling league until she was 81, when health issues made it too difficult. She loved the sport and was the secretary of many leagues. She traveled throughout the US for tournaments. She especially loved the ones in Nevada with the casinos. A member of the Moose Lodge, American Legion and Fleet Reserve Branch 172, where she worked for 16 years, Marie always wanted to join in the fun. She needed to be connected to people and thrived when she was in a room filled with friends and family.
Marie was preceded in death by husband of 54 years, George Wilhelm, her parents, William and Charlotte Strickland; her beloved Caroline and Ben Strickland, who raised her after the tragedy of her mother's death and their daughter Gladys Seymour, who was like a mother and sister; as well as beloved brothers and sisters. Left to cherish her memory are 2 daughters Caroline Raulerson of Newport News, VA and Colleen Wilhelm of Richmond, VA. She is also survived by 3 grandchildren Bradley, Brittney and Mackenzie; one great grandchild, Anthony; half-sister, Cicely Broudeau, Alberta, CA; sister in laws Joan Missell of Leesburg, FL; and Joan Wilhelm of York, PA; numerous cousins, nieces and nephews as well as countless friends. Her memory will especially be cherished by Jim Silves, her special friend and good man. She loved him and he supported her, cared for her and returned that love for the last 7 years.
A celebration of her life will be held at 11:00 am on Saturday, February 25, 2023 in the chapel of Amory Funeral Home, Grafton. Interment will be held at Arlington National Cemetery at a later date. In lieu of flowers, memorials may be made to the Senior Connections, The Capital Area Agency on Aging at 1300 Semmes Ave, Richmond, VA. 23224.