Mary Owens Walker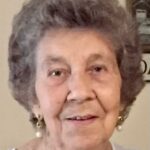 Mary Owens Walker, 90, went home to be with her Lord and Savior, Jesus Christ on Tuesday, December 21, 2021. Mary was born April 20, 1931 to the late Alfred and Irene Owens. Mary was born and grew up in the community of Dandy, VA. Shortly after high school, she married the love of her life and established lifelong residence in Stonybrook, Newport News. Mary was a lifelong member of Dandy Baptist Church. She was a member of the Denbigh Crafters where she made crocheted items for organizations in need. She looked forward to spending time with her friends each week while crocheting and building relationships.
Mary was predeceased in death by her loving husband of 59 years, Claude E. Walker; brother, Fay Owens, and wife Louella Owens; sister, Lorraine Ingram, and husband Lynwood Ingram; sisters-in-law, Grace Owens, Louise Owens, and Louise Marrs; brother-in-law, Herbert Walker; and nephew, Kenneth Owens.
Mary is survived by her brother, Alfred R. Owens of Yorktown; nieces and nephews, Patricia Motley, Judy Johnson, George Owens, Gilbert Owens, Norman Ingram, Connie Owens-Houston, and James Marrs; many great-nieces and nephews; and sister-in-law, Ruth Walker.
A funeral service will be held at 11:30 am Tuesday, December 28, 2021 in the chapel of Amory Funeral Home, Grafton. Interment will follow at Peninsula Memorial Park. The family will receive friends beginning at 10:45 am at the funeral home.
Expressions of sympathy may be made to the Peninsula Rescue Mission at www.prm.info.