Mary H. Terwilliger (Mary Lou)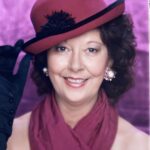 Yorktown, VA – Mary H. Terwilliger (Mary Lou) joined our Heavenly Father on Monday, May 2nd, 2022. Mary was a lifelong York County resident and graduated from Poquoson High School in 1954. Mary retired as Deputy Treasurer from the York County Treasurer's Office in 1991. She was a lifelong member of Grafton Christian Church.
Mary was preceded in death by her parents Joseph L. Hudgins and Jeanette Wood Hudgins, her brothers; William (Willy) Hudgins, Ernest (Teeny) Hudgins, Joseph (Joe Nip) Hudgins, Floyd (Hump) Hudgins and George (Roach) Hudgins and sisters; Elizabeth Hudgins, Loraine Riggins and Edna Mae Brake. She is survived by her loving husband of 33 years, George W. Terwilliger, her children; Charlene Bowman (Richard Eanes), Sandy Maher (Lou) and Danny Bowman (Alisa), her grandchildren; Josh Rathbun, Chad West, Mary Hackney and Carroll Emerson, her great grandchildren; Mayah, Jameson, Thomas, Savannah, Sammy, William, Lilah, Dusty, Dakota and Dayla and her many nieces and nephews.
"When you see the brightest star in the sky it will be me, your mom shining down on you keeping you safe and loved."
A memorial service will be held on Saturday, May 14th, 2022 at 11:00 AM at Grafton Christian Church with a reception to follow in the church social hall.
In lieu of flowers donations may be made to Children's Hospital of the King's Daughters, 601 Children's Lane, Norfolk, VA 23507 or St. Jude's Children's Hospital, 501 St. Jude Place, Memphis, TN 38105.
Arrangements by Amory Funeral Home, Grafton, VA.