Marwan Najib Abisaab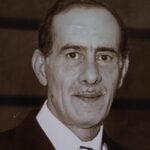 Yorktown, Va. – Marwan Najib Abisaab, 73 of Newport News, VA passed away peacefully on March 5, 2020 surrounded by his family. Marwan was born on January 9, 1947 in Aitat, Lebanon of the late Najib Said Abisaab and Rachida Rashid. He is survived by his wife Aida Fanous, daughter Abir and son-in-law Rajai, son Eddie and daughter-in-law Sophie; siblings Said, Fadia, Issam, Oussama, Hicham, Haitham, and four grandchildren. Marwan was a compassionate and loving family man, father, and grandfather. What brought him the most pride was his work ethic and perseverance. Marwan's life was defined by his honor, respect, and endless courage that lives on in his legacy.
On Monday, March 9, 2020, the family will visit with friends and loved ones from 10:00 am until 11:00 am at St. Joan of Arc Catholic Church, 315 Harris Ln, in Yorktown, Virginia. A Funeral Mass will follow at 11:00 am. Interment will take place at Williamsburg Memorial Park, 130 King William Drive in Williamsburg following the Funeral Mass.