Martha Robins Maclay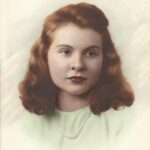 Martha Robins Maclay 1926-2021
Martha Robins Maclay passed from this life on August 10, 2021 at her beloved home, "Fairfield", in Gloucester County.
She was born in Hampton Virginia to Margaret Gordon Edwards and Bartlett Todd Robins. In addition to her parents, she was predeceased by her loving husband John A. (Jack) Maclay and siblings: Mary R. Bruce of Seattle Washington, John E. Robins of Hampton, Virginia, and A. Warner Robins of Yorktown, Virginia.
Martha grew up at Lone Oak Farm near Langley Field and attended local schools, graduating from Hampton High in 1944. She then attended Mary Washington College and completed a two-year secretarial course. Following this she worked for two years at TAC Headquarters in Organization and Man Power. In 1948 she married Jack Maclay and eventually moved to Marlbank Farm where they raised their three sons.
Martha was devoted to her family and enjoyed passing along stories of the family history. She was an active member of Grace Episcopal Church, serving for several years on the altar guild. She was an avid birdwatcher and took great pleasure also from gardening and in the restoration of her mother's family home,"Fairfield", where she and Jack lived in their retirement.
Martha and Jack were married for 57 years and are survived by their three sons: John Gary Maclay (Martha) of Free Union, Virginia, Todd Robins Maclay (Sherry) of Yorktown, Virginia, and Thomas Nelson Maclay of Hayes, Virginia. Other survivors include seven grandchildren: Graeme Maclay (Nicole) of Crozet, Virginia, Anna Maclay (David Fisher) and Kate Maclay Schwartz (Aaron), Michelle Rash (Roland), and Meg, Amanda and Adrienne Maclay, as well as ten great-grandchildren.
There will be a graveside service for immediate family at Abingdon Church in White Marsh, Virginia. A celebration of her life will be held at a later date. Donations in her memory may be made to Riverside Walter Reed Hospice, 7358 Main Street, Gloucester, VA 23061, or to a charity of your choosing.