Martha Gertrude "Trudy" Roberts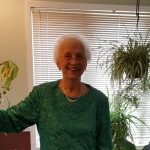 Portsmouth – Martha Gertrude "Trudy" Roberts, 93, passed away on Monday, December 3, 2018
Trudy was of Portsmouth, Virginia and a resident of Yorktown for 40 years before moving back to Portsmouth in 2009. She retired as a clerk at New Horizons Tech after 12 years of service and was a former bookkeeper for Coleman's Nursery. She was a member for over 50 years of the Order of Eastern Star Yorktown number 110 and past president of the York Lady Lions.
Trudy was preceded in death by her husband of 64 years Gilbert "Bob" Roberts and a son, Gilbert P. 'Gil' Roberts, Jr. She is survived by her daughter, Linda H. Railey and her husband, Jay, of Southport, N.C.; a sister Mildred "Millie" Lancaster; two grandsons, Jay Hall and his wife, Anissa, of Four Oaks, N.C., and Brent Railey and his wife, Laura, of The Woodlands, TX; and six great-grandchildren Will and Zack Hall, Savannah, Olivia, Nathan, and Felicity Railey.
A Memorial Service will be held at 2:00 PM, on Friday, December 7, 2018, at St. Luke's United Methodist Church, Yorktown, with the Dr. Clarence Brown, officiating. A Graveside Service will be on Friday morning at 10:00 AM in Albert G. Horton Jr. Memorial Veterans Cemetery.
In lieu of flowers, memorial donations may be made to the York Lion Club.