Marion Janette Beasley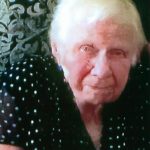 Marion Janette Beasley, 90, passed away on Thursday Morning June 13, 2019. Marion was born in Newport News and was a lifelong York County resident. She was the first nurse employed by York County Public Schools and retired in 1990 from York high School. She was a member of the Hampton Roads Seven Day Adventist Church.
She was preceded in death by her husband of 47 years Gouldin Beasley, Jr and is survived by her daughter, Patricia (Pat) Rachita (Vasile) of Yorktown and a son Wayne Beasley (Sophia) of Rocky Mount, NC a brother Edgar John Brock, Jr. of Charlottesville and a sister Marie Haas of Suffolk, and 3 grandchildren, Curtis Wayne Beasley, Emily Beasley Poe (Eric) and Mirela Rachita and 3 great-grandchildren Charlotte, Blaine and Cade Poe.
A funeral service will be held at 11:00 AM on Monday, June 17, 2019 in Amory Funeral Home Chapel. Interment will follow in Grafton Christian Church Cemetery. The family will receive friends one hour prior to the service.