Marie Phibbs Ashley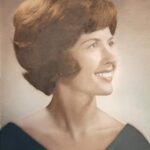 Marie Phibbs Ashley, age 82, of Seaford, passed away on Monday, December 12, 2022. Born September 4, 1940 in Pulaski, Virginia to W.M. and Sylvara Dalton Phibbs.
She graduated from Pulaski High School in 1959 and from Bridgewater College in 1965 with a BA degree in English. She married John Ashley also from Pulaski on June 18, 1966. They were married for almost 55 years until his death in June of 2022.
John and Marie are the proud parents of John M. Ashley, Jr, a loving daughter-in-law Beverly Ashley and two wonderful grandsons, Brent Carter Ashley and Blake Thomas Ashley.
Marie was blessed to be born into a large family of ten children, where nine went on to attend Bridgewater College. She also was preceded in death by her brothers, Arby, Paul, Garnett, Raymond, Donald Phibbs and three sisters, Elizabeth Anne Phibbs, Ruth Phibbs and Willadeane Myers. Marie is survived by one sister, Alma Heisey and many nieces, nephews and cousins.
A dedicated educator, Marie taught school for 27 years before retiring in 1997 from Grafton-Bethel Elementary in The York County School Division.
The family would like to thank all of the EMTs from the York County Fire and Life Safety stations for all of their assistance over the years as well as the staff from the Riverside Hospice Care of Newport News.
A visitation will be held on Friday, December 16 from 6-8 pm at the Amory Funeral Home in Grafton. The funeral service will be held Saturday, December 17 at 11 am at Zion United Methodist Church in Seaford. Burial will follow in the church cemetery. Arrangements by Amory Funeral Home, Grafton, Va.