Marianne Attaway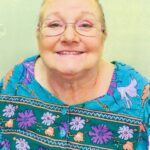 Marianne Attaway, Age 69, was born on September 28, 1953, in Hampstead, NY. She passed peacefully on August 31, 2023, due to complications from strokes and cancer. She had been a resident of Commonwealth Assisted Living of Hampton since April of 2015.
She was preceded in death by her husband and soulmate Bruce Watson as well as her parents Daniel and Naomi [Woodie] Attaway.
She is survived by her sister Faye Whitworth [Terry] of Tacoma, Washington and her extended family of Elaine and Richard Simmons, Tom and Beth Watson and daughters Katie and Rachel, Hank and Susan Watson and daughter Joy [James], and Mark and Cheryl Owen-Watson and their children Lisa, Kevin and James.
A graduate of Bethel High School, Marianne's years in Hampton were marked by jewelry making; her necklaces were displayed in the Chrysler Museum in Norfolk. She enjoyed making earrings for family and friends. She also loved horses. Her quarter horse, Dennis, was a Grand Champion. Marianne loved cats and cat-themed items, especially Hello, Kitty. Because she loved the art and memorial jewelry of the Victorian era, she had trouble passing up any antique stores, often in the company of her mother and husband.
Marianne retired from the Department of the Navy where she worked in finance/budgeting. She received several Employee of the Month and Quarter awards at Cheatham Annex.
Many thanks are extended to the caring staff of Commonwealth including the palliative and hospice staff who were so kind to Marianne in her last months'. Her sister, Faye, is especially grateful to Elaine whose caring support and kindness knew no bounds. Also thanks Richard Simmons and Tom and Beth Watson for being there for Marianne.
If you wish to remember Marianne, please lift a glass of unsweet tea in her memory.
Private interment. No services.