Marian L. Thome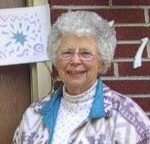 Marian L. Thome, 89, of Yorktown went home to be with Jesus on November 10, 2020.
A private service will be held at St. Lukes, UMC on Tuesday November 17th at 1 pm. the service will be live streamed on St. Lukes website: stlukesyorktown.org.
She is survived by three daughters, Patricia Cravotta (Sam); Elaine Wood (June Henkel), Virginia Potts (Duane) and four grandchildren, Matthew, Sarah, Amanda & Sharon and four great grand children.
She was born in Milwaukee, Wisconsin on 12-13-1930. Marian was married for 53 years to Randall G. Thome (deceased). Her other places of residence were: Bremerton, Washington; Alexandria and Luray Virginia.
Marian was a retired bookkeeper. She volunteered much of her time at the churches she attended and to the service of God.
Marian had a very giving heart and her doors were always open to those in need. She hosted missionaries from around the world and gave summer housing to her daughter's roommate. She was awarded recognition as an honored lay woman by the General Synod of the United Church of Christ at its semi-annual meeting in Atlanta, GA in July 2005.
Marian loved to play bridge and game nights with her family was very special to her.
She will be missed by all those who she touched and loved.
In lieu of flowers, please make contributions to either the York County Church Women United Food Closet or the St. Luke's Good Samaritan Fund.