Marian L. Mitchell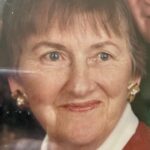 Marian L. Mitchell, formerly of Yorktown, Virginia, entered into the loving arms of her Heavenly Father on Sunday, July 10, 2022. She was preceded in death by her loving husband Bobbie, and her parents Fred and Helen Lemmond. Marian and Bobbie were married for 61 years before his passing in 2021. She was a loving mother, grandmother and homemaker. Marian enjoyed her many church activities and her dear friends. She was also a talented watercolor artist and pianist. She leaves behind daughters, Luanna Wilton (George), Laura Lamb (Steve), granddaughters Hollie and Kacie Wilton, and cousin's Frank Ivey and Linda Wharton.
A funeral service will be held on at 12:00 noon on Thursday, July 14, 2022 at Amory Funeral Home Chapel, 410 Grafton Drive, Yorktown, Va. The family will see visitors from 11:00 AM to noon before the service. Interment will be at the Peninsula Memorial Park following the service.
In lieu of flowers donations in her memory may be made to the Peninsula Rescue Mission, P.O. Box 377, Newport News, Va. 23607.
Arrangements by Amory Funeral Home, Grafton, Va.