Marguerite Lois Goodwin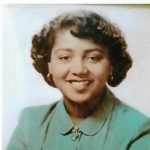 Yorktown, VA – Marguerite Lois Goodwin, 83, passed away on Saturday, March 23, 2019.
Marguerite was a native of Massachusetts before moving to Yorktown, VA in 2002. She was a Harvard graduate and a retired Social Worker. Marguerite was a member of Faith for Living Outreach Center in Grafton. She was preceded in death by her parents, James and Margaret Washington, and her son; Norman Goodwin. She is survived by her husband; William Goodwin III, , a granddaughter; Thayisha, her brother John Washington(Manny), her sisters; Doris Wilma Clemons, Corrie Mae Cottrell, and a host of nieces, nephews and great nieces and nephews.
A memorial service will be held on Wednesday, April 3, 2019 at 2:00 PM in Faith for Living Outreach Center, 130 Goodwin Neck Road, Grafton, VA 23692
Arrangements are being handled by Amory Funeral Home, Grafton.