Margie Eugene Wright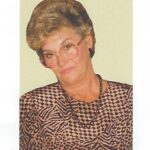 Yorktown, Va. – Margie Eugene Wright, at 89 years old, finished her journey on this earth in the morning hours of Tuesday, October 5, 2021.
Margie began her life journey on August 22, 1932 in Thomaston, Georgia. She was the second child born to her parents William Edward Windham and Katherine Eugene Watson Windham.
In 1943 Margie's family moved to Hampton, Virginia when her father found employment in the Newport News shipyard. They lived in Copeland Park Housing where she attended Warwick High School and graduated in 1950. She was well liked by her peers and voted "The Wittiest" in her senior year.
Back then, in Copeland Park the students were divided, with half of the students attending Hampton High and half attending Warwick. One day at the bus stop she met this good looking guy with curly black hair and piercing blue eyes. They started meeting at the roller rink on Jefferson and Aberdeen Avenues where he would impress her with his rhythm and smooth moves in the rink. One night at a hayride he threw a blanket over her head and kissed her. They fell in love and married 2 days after her 18th birthday on August 24,1950. They were blessed with four beautiful boys, James Jr., William, Joel, and Christopher.
Margie was a wonderful, loving and caring mother. She waited until her youngest son Chris was in school before she went to work at Sears as a cashier. She also worked at VEPCO, Masons and shuttled cars for Avis Car Rental. Margie loved to sew, creating beautiful quilts, pillows, and her special surfing jams she made for those she loved. She loved to go fishing, bowling, road trips, and a glass of wine or two at the end of the day.
She was a fierce matriarch and loved it when all of her family gathered together. She kept in touch with all her family and friends and was involved in each of their lives. She was often called upon for advice and she told you the truth with no candy coating. If any of us had a dilemma, we called Margie because she was so supportive and understanding of every life situation.
She leaves her son, James Franklin Wright, Jr. and wife Tammy, her son William Roy Wright and wife Robin, her son Christopher Windom Wright and wife Deborah, Brother Carl Edward Windham and wife Peggy, grandchildren Melanie, Brandon, Kristen, Austin, Anna, Nathan, Sunnie, Jordan, Marcy, Amanda, Joel, Josiah, Danielle, Kayla, and twenty-four great grandchildren.
She was preceded in death by the love of her life James (Sonny) Franklin Wright, Sr., her son Joel Neal Wright, and her older sister, Bernice Virginia Windham Hawthorne.
We thank you for being such a good wife, sister, mother, mother-in-law, aunt, cousin, grandmother, great grandmother and friend. We miss you already. May you rest in the loving arms of Jesus until we meet again.
There will be a small, private memorial service for family members at Amory Funeral Home.