Margaret D. Wilson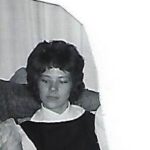 YORKTOWN – Margaret D. Wilson, 85, passed away on Thursday, October 10, 2019. She was a native of Pennsylvania and a Yorktown resident for many Years. She was a loving and devoted wife, mother and sister. Margaret was into Square Dancing and was a member of Square Edges and Triangle Squares and active member of Providence United Methodist Church.
She was preceded in death by her husband of 51 years Okey T. Wilson, Sr. her parents, Emerson and Marie Diehl, and sisters, Evelyn "Blondie" Stanley, Eleanor Smith and Levenna "Polly" Hardister and Brother Richard Diehl is survived by her daughter, Toni C. Wilson of Williamsburg and a son Okey Travis Wilson, Jr. of Hayes; 5 brothers, Johnny Diehl of Eagle Rock, Va., Gilbert "Stoney" Diehl of James City County, Va., Bill Diehl, Donnie Diehl, and Mark "Muchie" Diehl, all of Pennsylvania; 4 sisters, Louella "Cook" Owens of Gloucester, Ruth "Shome" Smith of Maryland, Jeannie Flemming of Clinchco, Va., and Ellie Mansfield of South Carolina. She is also survived by numerous nieces, nephews and cousins.
A funeral service will be held on Tuesday October 15, 2019 at NOON in Providence United Methodist Church and interment will follow in the church cemetery. The family will receive friends on Monday from 6:00 to 8:00 PM in Amory Funeral Home.
Memorials may be made to the Providence United Methodist Church, 113 Old Dare Road, Yorktown, VA. 23692.