Margaret Claiborne Waldrop "Chips" Halley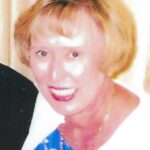 Yorktown, Va. – Margaret Claiborne Waldrop (Chips) Halley, 76, crossed the finish line for the final time on April 17, 2021 after a battle with Alzheimer's disease.
Chips was born in Roanoke, Virginia on November 19, 1944 to Alexander A. Waldrop, Jr. and Margaret Helms Carper Waldrop. She graduated from Patrick Henry High School in Roanoke, arrived in Hampton, VA in 1967, and met and married the Jove of her life, Jim, in May 1969. They traveled to Italy, Alabama and returned to Langley AFB in 1978. She was an Air Force spouse until Jim's retirement from active duty in 1984. She began her 20-year civil service career at Langley Air Force Base in 1987 working as the secretary, first for the Surgeon General's Office and then the Intelligence Office, from which she retired in 2007. She and Jim developed an interest in running in 1994 and ran many local and destination races, including the Marine Corps Marathon in 2008 and the New York City Marathon in 2010. Chips was a member of all three area running clubs-the Peninsula Track Club, Colonial Road Runners, and Tidewater Striders. She and Jim served as social coordinators and also coordinated the Adopt-A- Highway quarterly trash collection for the Peninsula Track Club for many years. Chips and Jim loved to travel and took many cruises with family and friends to Bermuda, Eastern Caribbean, Western Caribbean and the Panama Canal.
Chips was preceded in death by her parents and a sister Elizabeth Wesley Waldrop. She is survived by her devoted husband of 52 years, Jim, of Grafton; her son, Michael Patrick, of Norfolk; her siblings, Alexander A. Waldrop III, Anne W. Waldrop, George S. Waldrop and Jane E. Waldrop-all of Roanoke; numerous in-laws, cousins, nieces and nephews and many friends in the running community and beyond.
The family would like to thank the staff of Riverside Regional Medical Center Hospice and Home Health Agency for all their support. In lieu of flowers, please send memorial donations to the Alzheimer's Association at https:ljact.alz.org/to help find a cure for Alzheimer's disease or the charity of your choice.
A funeral service will be held on Thursday, April 22, 2021 at 11:00 AM in Amory Funeral Home Chapel. Interment will follow at 2:00 PM in Albert G. Horton, Jr. Veterans Memorial Cemetery, Suffolk, VA. 5310 Milner's Road, Suffolk, VA 23434. All Covid-related protocols will be followed. Amory Funeral Home is in charge of arrangements.