Mamie Rose Willett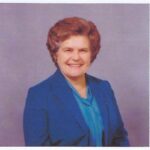 YORKTOWN – Mamie Rose Willett, 94, passed away on Friday, January 8, 2021. Mamie was a native of Messick and was a lifelong peninsula resident. She was a member of Bethel Baptist Church, Yorktown.
Mamie was preceded in death by her husband of 62 years Albert James Willett Sr., and her the three sons, Bobby Willet, Terry Willett and Keith Willett and great grandson Clayton Willett.
She is survived by her son, Jimmie Willett and his wife Diane of Topping, VA and three sisters, Marie Grindstaff, Doris Wiley and Earline Barry and a brother Billy Gilbert.
Grandchildren, James, Karen, Robert, Lance, Charles, Nancy and Heather. Great grandchildren, Clayton, Shana, Jenna, Raven, Whitney, Clay, Lauren, Rosa, Johnny, Chase, Jesse and Logan
She is also survived by her daughter-in-laws, Dreama, Debbie and Pat
A private graveside service will be held in Peninsula Memorial Park
Memorial Donations may be made to the York County Fire Dept., P.O. Box 532, Yorktown, VA 23692. Arrangements by Amory Funeral Home, Grafton, Va.