Lynn Scott Mendibur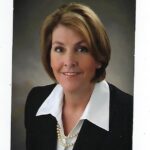 Lynn Scott Mendibur
Clerk of Circuit Court,
County of York and City of Poquoson
(1999 – 2014)
Lynn Mendibur, 59 of Yorktown, Virginia entered eternal life through Jesus Christ on 3 April of 2020. A family funeral mass will be celebrated at St Joan of Arc Catholic Church with follow-on burial at the Arlington National Cemetery at a later time. Lynn attended Seaford Elementary school followed by attendance at York High School and graduated from Randolph-Macon Woman's College with a Bachelor's of Arts in 1983. An accomplished professional woman Lynn was elected to the position of Clerk of Circuit Court County of York and City of Poquoson in 1999 where she served as Clerk until she retired in 2014. As a Constitutional Officer, she supervised fifteen York County employees and served as the custodian of all court litigation records and land records, e.g. lawsuits, divorces, land disputes adoptions, wills, etc. In addition to excelling in her primary professional responsibilities, Lynn served as secretary of the York County Republican Committee, Vice-President of the Virginia Circuit Court Clerk Association, President of the York County Kiwanis Distinguished Club, member of the York Victory YMCA Management Board, and representative to the Library Board of Trustees.
She is predeceased by her father Henry T. Cornick, Jr., survived by her husband, Lt. Col. USAF (Ret) Antonio Mendibur, four children David Jr. (Kayla), Laura, August Jenkins and Katelyn Theuerkauf) (Seth), one grandchild (Wyatt), and her mother Marsha and step-father David Brown. Lynn loved God, her husband, and her family, including Max, her miniature dachshund, and she will be greatly missed by her family. She enjoyed music, gardening, playing tennis, boating, and memorizing scripture — one of her favorites being "…and lo, I am with you always even to the end of the age." Matt. 28:20.