Lucy Harris Parker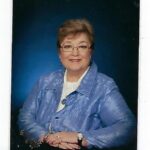 On January 17, 2021, God sent his angels to encamp around Lucy Harris Parker to clear the highways and byways to heaven (a prayer Lucy always recited before a road trip for safe travels). Early Sunday morning while her son laid at the foot of her bed, Lucy safely traveled to heaven.
Lucy is survived by her son Billy (Laura), grandchildren: Brent and Brookelyn (their mother Kim, grandfather Bill and great uncle Steve), sister: Jannie Preddy (Jimmy), nephews: Glenn Preddy (Joelle), Jeffrey Preddy (Vickie) and their children.
Lucy is preceded in death by her son Brent Harris Parker, and her parents Hebert and Mabel Harris.
Lucy was born in Granville County, NC in 1938. She grew up in Wilton NC where she learned the value of hard work from her mom as a teacher who taught for 45 years and from her dad farming the tobacco fields and working the family country store on their property. The church, family, fun and fellowship with friends were very important to Lucy growing up. The family would often have a gathering of people to eat dinner after church services on Sundays at their home. Lucy also recalls playing sports and being with friends by hooking up a farm wagon and riding from house to house. Lucy said that she was not very good at basketball, but everyone participated and that her sister, Jannie, was the star. Lucy said that if her parents were alive today the message that they would give would be to "take care of it", "never quit and never give up".
After Lucy graduated from Wilton High School in 1956, she attended Richmond Professional Institute (now VCU) where she was a cheerleader and earned her degree. Following graduation Lucy began her teaching career in Danville, VA in 1960. She began teaching marketing education (DECA) at Waynesboro High School in 1963. The family moved to Williamsburg, VA in 1967 where Lucy continued teaching marketing at James Blair High School and finally retired in 1991 from Lafayette High School. Lucy also ran an adult education program for the hospitality industry in Williamsburg for students to receive college credit in hospitality that East Lansing University offered. Lucy had a passion for helping her students become successful.
Following retirement, Lucy started a new hobby as a lark, dressing up in costume as her alter ego Miss Lula May the clown to help her friends by entertaining people at parties. Her passions were her hobbies, her family, her friends and her ministry at church.
In regards to her family, Lucy was a great on demand short order cook for her two sons, and followed them around to every sporting event that they were involved with. It was also important that the family get together whether it was for a holiday or a family reunion. She was particularly close to her grandchildren as she helped raise them from the time that they were born and also followed them to their sporting events. Her ministry at church was her true life passion. Lucy began her 25 plus years of mission work and lived on the Navajo reservation in Arizona and New Mexico sent by her home church in Newport News, VA, World Outreach Worship Center. While on the reservation, Lucy would dress up as the Lula May the clown for children's ministry. She also would run women's conferences and simple bible studies with the ladies. Throughout the years, Lucy drove with other church participants from Virginia to Arizona. Lucy helped with purchasing the land and a trailer to live on while doing their work out west. Lucy would go out west 2 and sometimes 3 times per year and stay 3 weeks at a time. Lucy always brought gifts and treats for the people. Tyda Harvey, Founder at Gathering of Tribal Nations, said that "She loved our people and did things beyond herself." "This English woman won the hearts of many Navajo Pastors and people."
Over the years through life's challenges of losing a son to a car accident, a marriage that was dissolved, getting hit by a tractor trailer on the driver side door, having a lung operation, to having a very rare autoimmune skin disease (Bullous Pemphigoid) while in Arizona to having a stroke in February and diagnosed with stage 4 lung cancer in July. Through it all, she did not quit life, and she did not quit serving the Lord. She and her co-workers continued to drive "out west" as she would say, to work in the mission field. What an example of service that she left behind. On January 17, 2021, Lucy Harris Parker got to hear, well done good and faithful servant.
A special thank you goes out to Lawrence and Tammy Carnegie, Deborah Richardson, Kim Parker and Riverside Hospice (in particular Lucy's nurses Danielle Wellbrock and Heather Trombley).
The family will receive visitation on Monday, January 25, 2021 beginning at 11:00am with the service to follow at 12:00 noon at the World Outreach Worship Center at 1233 Shields Road Newport News VA 23608. Due to the pandemic, masks are required and please adhere to being the 6 foot social distant requirement too. Burial at the cemetery is private.
In lieu of flowers, please send your donations to the World Outreach Worship Center for the benefit of the American Indian Outreach ministry (see address above).
To livestream the service please goto the World Outreach Worship Center by typing wowcenter.org in the address bar and then click on more while in the home page and then click watch live. Arrangements by Amory Funeral Home, Grafton, Va.