Lucy Arnold Smith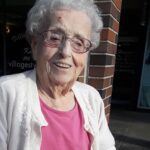 Newport News, Va. – Lucy Arnold Smith, 95, passed away on Tuesday, March 2, 2021. Lucy was a native of Washington, NC and moved to Hampton, VA in 1956 and then a resident in Yorktown since 1965. She retired from AAA in 1988 after 37 years of service. Lucy was a member of Seaford Christian Church and was an active member and taught Sunday School and she enjoyed sewing and making floral arrangements.
She was preceded in death by her husband John Russell Smith, Sr. and her children, John Russell Smith Jr and Kitty Pauline Smith. She is survived by her daughter-in-law Charlotte Berdensey Smith and her grandsons, John Howard Smith, Dwayne Patrick Smith and his wife Sheryl, Leslie Harold Smith and his wife Michelle and Philip Edmund Smith and great grandchildren, Christian Harold Smith, Dylan Michael Smith, Celia Bailey Smith and David Sebastian Smith
A funeral service will be held at NOON on Friday in Seaford Christian Church the family will receive friends one hour prior to service. A graveside service will be held in her home town of Washington NC on Saturday March 6, 2021 at 1:00 PM in Oakdale Cemetery. Local arrangements were made by Amory Funeral Home, Grafton, Va.