Lt. Col. John Edward Kelly (Retired)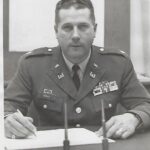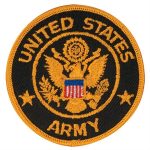 Yorktown, VA – Lt. Col. John Edward Kelly, U.S. Army (Ret.) passed away peacefully with family at his side on February 12, 2020 in Yorktown, VA. John was born on October 23, 1924 in Baton Rouge, LA and has been a Peninsula resident since 1970.
He also lived in Hampton during a tour of duty at Ft. Monroe from 1964-67. He retired from the Corps of Engineers, U.S. Army in 1970 with over 27 years of service to his country. John was a veteran of World War II serving in the European and Pacific theaters) the Korean Conflict and the Vietnam War. He also served three tours of duty in Germany after WWII, one tour in Japan and an additional tour in Korea.
Among his many awards and citations was the Legion of Merit, Bronze Star Medal, Korean Service Medal, Army Commendation Medal w/first oak leaf cluster, Meritorious Unit Citation and many others. He was also awarded the Master of the Rhine River in Germany.
John was a member of the following organizations: Disabled American Veterans, Veterans of Foreign Wars, The American Legion, Association of the United States Army, and Military Officers Association of America. Following his retirement from the Army, John was employed at Riverside Hospital in Newport News as the evening administrator for over 16 years.
John was preceded in death by his loving wife of over 60 years, Margarete Marianne Kelly; stepdaughter Petra Karin Kelly and daughter Grace Patricia Kelly. He is survived by his son John Lee Kelly and wife Wendy Ray Kelly; two grandchildren, Trevor Allen Kelly and Tiffany Ray Kelly and his sister Patsy Lee McCutcheon.
John had a heart of gold, was a man of strength, and a caring and loving person. He was loved by all. He will be buried at Arlington National Cemetery alongside his wife at a later date.
Arrangements by Amory Funeral Home, Grafton, VA.