Lt. Col. Jack H. Thompson (USA Ret)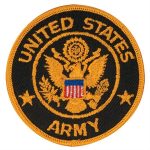 Jack H. Thompson, 91, of Yorktown, VA. passed away at home on October 14, 2019. Jack was born in Wabash, Indiana on December 14, 1927, to Raymond and Pauline Thompson. He was the oldest of six children. He graduated from Linlawn High school at the age of 17 and immediately joined the Army, where he served for 28 years. He was a Master Aviator, certified to fly both fixed wing and helicopters. His assignments took him all over the world and he was proud to say that he had set foot on five of the seven continents. He received many awards during his Army career.
After retiring from the Army, he went to work for Embry Riddle Aeronautical University as
Director of the Center at the Education Center at Ft. Eustis. He enjoyed working with the military who came to seek his counseling for earning graduate degrees through the Army benefits program. There is no way to know the number of lives he touched during the 46 years he worked with ERAU. Many students contacted him through the years to tell him their success stories and to thank him for not allowing them to drop out of school in spite of overseas deployments and family hardships.
Jack obtained his undergraduate degree from the University of Maryland, his first Masters Degree from the College of William and Mary and his second Masters degree from ERAU at the age of 76. As he always told his students, you are never too old to learn. He continued to work at the ERAU office until he died. Retirement was not in his vocabulary.
He married his high school sweetheart on February 25, 1949 and they celebrated their 70th wedding anniversary this year. Mary Louise had told Jack before they were married she did not want to be an Army wife. He left the Army for three years, but was not happy in civilian life. During the Korean War he went back on active dury, and for the next twenty-five years, she devoted herself to being the best wife and mother in support of his decision. It was a good life and there were no regrets.
He was preceded in death by his parents and survived by his loving wife, Mary Louise, two daughters,
Elizabeth Stabnow, and Cheryl Thompson, a granddaughter, Jacqueline Stabnow Garrison (Robert) , three sisters, Mary Lou Diefenbaugh, Susie Summers (Bernie), Phyllis Coppock, and two brothers, Pat Thompson (Karen) and John R. Thompson( Susan), along with many nieces and nephews.
A Celebration of Life Memorial Service will be held on Saturday, October 19, 2019 at Warwick Memorial United Methodist Church, 38 Hoopes Rd, Newport News, VA 23692 at 11 am, with a reception immediately following the service. Internment will take place at a later date.
Arrangements are under the care of Amory Funeral Home, 410 Grafton Drive, Grafton, VA. 23692. In lieu of flowers the family requests that donations be made to the Building Fund at Warwick Memorial United Methodist Church.