Lois Ella Messeder-Watson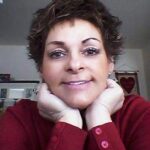 Lois Ella Messeder-Watson of Newport News passed peacefully on June 26, 2022. She was preceded in death by her parents, Ella (Stiles) Messeder and John Messeder, and is survived by her husband of 22 years, James Watson; her sons, Cameron M. Messeder of Newport News , and Casey M Morgan (Brandy) of Norridgewock, Maine, grandchildren Kaleigh Epperd, Gage Morgan and Ben Morgan; brothers John Allen Messeder, and Richard Messeder, sister Lillian (Messeder) Lake, and numerous nieces, nephews, and friends.
Born in Bronx, NY on June 29, 1952, Lois served in the US Navy from 1970 to 1974, and moved to Virginia in 1992, where she worked for NASA as a key-punch operator and for Belltone of Gloucester.
A very loving and generous woman, Lois made clothing for infants at CHKD for many years.
Arrangements are pending and are under the direction of Amory Funeral Home of Yorktown, VA.