Lois Davis Ashley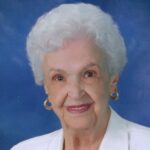 Lois Davis Ashley, 94, passed away on September 18, 2020 at her daughter's home in Hayes, Virginia. Born in Chowan County, she was the daughter of William Thomas Davis and Sallie Parks Davis. In addition to her parents, she was predeceased by her husband Thomas L. Ashley, of 49 years, a daughter Susan Nadine Ashley and her half-siblings, Thomas Davis, Carson Davis and Mary Lee Craft.
Lois is survived by her daughter Pamela A. Setliff (Carroll) of Hayes, Virginia, granddaughter Amee J. Fansler (Randy) of Silver Spring, Maryland, special niece Rebecca C. Pumo of Richmond, Virginia, 2 great-granddaughters and 2 great-great granddaughters. The family was blessed to be able to celebrate 5 generations of women. She is also survived by 3 step-grandchildren, 6 step-great-grandchildren and many loving nieces and nephews.
Lois graduated from Chowan High School and Norfolk Business College. She was a civil service secretary at the Marine Corp Base in Edenton, North Carolina. After her family moved to Virginia Beach, Virginia, she worked in credit management for Sears & Roebuck and GEX. After retiring and returning to Edenton, she enjoyed volunteering at the hospital gift shop, the Food Pantry and being a tour guide in colonial attire for the Pilgrimage Tour of Historic Homes. She was dedicated to Edenton Baptist Church and cherished her many friends and her time there.
There will be a private family ceremony with Pastor David Brooks presiding.
Please remember her with an act of kindness to someone. Her greatest joy before she became ill was to make pimento cheese and/or beef vegetable soup to share with friends in need.
Whether we remember her as Lois, Ma, Nanee, LoLo or Nanee #2, it will always be with much love and beautiful memories.