Lisa Bryan Staples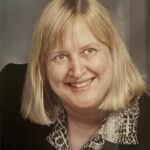 Lisa Bryan Staples, (70), passed away on August 16, 2023. She was the wife of Robert Staples Jr (Jim). They shared 47 years of marriage.
Born in Washington D.C, She was the daughter of Lyman and Louise Bryan. A graduate of the University of Richmond, Lisa was employed at Fort Eustis Military Base for forty years and worked as an administrative assistant.
Lisa was a member of the York Assembly of God. She enjoyed church and being with her family. She will be remembered for her love of God as well as her family and friends.
She is survived by her husband, Robert Staples Jr (Jim). Her children, Daniel Staples (Aimee) and Melody Dawn Staples, grandchildren, Rebecca Staples, Kayla Staples, and Adam Staples. In addition she had another grandchild expected in November. Her siblings are Lowell Bryan, Laurel Bryan Bibby, and Layne Bryan Sweatt.
Visitation will be held on Wednesday, August 23, 2023 at 10am, followed by the Service at 11am at Amory Funeral Home, 410 Grafton Drive, Yorktown, Virginia. Burial will take place at Albert Horton Jr. Memorial at 2pm, 5310 Milners Road, Suffolk, Virginia, 23434.