Lilly Dalke Moller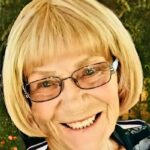 Newport News, Va. – Lilly Dalke Moller, 84, passed away on Saturday, November 21, 2020. Lilly was a native of Germany and a longtime peninsula resident.
She was preceded in death by her husband Henry R. Moller and a daughter, Rosemarie Agnor and is survived by her granddaughters, Tammy Algoe and her husband Theodore and Bettina Soost and her husband Mike as well as 5 great-grandchildren, Wesley Algoe, Savannah Algoe, Dalton Algoe, Blake Soost and Levi Soost.
The family will receive friends on Thursday December 3, 2020 from 1-2 in Amory Funeral Home followed by a graveside service at 3:00 PM in Peninsula Memorial Park. Arrangements are by Amory Funeral Home, Grafton, Va.