Larry Wayne Batton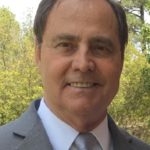 Larry Wayne Batton of Newport News, VA – passed away on December 3rd 2019.
Larry was born at Fort Bragg, NC on July 2, 1953. He spent 21 years in the United States Army and retired as a CW3 (Chief Warrant Officer) in November 1993. He loved serving in the Military and had a variety of assignments during his career. Larry especially enjoyed his Airborne status and was stationed for many years in the 82nd Airborne Division at Fort Bragg, NC.
Larry enjoyed traveling and especially loved spending time with his family. He was immensely proud of all of his children and grandchildren and their individual accomplishments – he never stopped bragging about each one of them!! Larry was a very cheerful and friendly person despite his numerous illnesses. He was a true animal lover and treasured his memories of the Golden Retrievers the family had over the years. His current Golden named Sasha, was his true Therapy Dog!!
Larry was baptized as one of Jehovah's Witnesses in July of 2014 and was an active member of the Denbigh East Congregation in Yorktown, VA. His faith was very important to him and he invested much time and energy learning Bible Truths and sharing them with others.
Larry's family members that have passed away include: his parents – Roy and Clara Batton, his sister Brenda Wright, and his brother Jerry Batton.
Larry is survived by his wife of 31 years Kathleen Batton; son, Coast Guard 1st Class Petty Officer Chris Batton and his wife Dawn; daughter, Sarah Donohue and her husband, Robert and their children, Oscar Ferguson, Layla and Olivia; son, Michael Batton and his wife Emma; daughter, Elizabeth Batton and her fiancée Hunter Matthews; brother, Roy Batton Jr. and his children, Dana Donner, Lynn Groder, Joey Groder and Jason Batton; his sister's sons Danny and Andy Wright; brother Darrell Batton and his partner Kathy Barnes and Darrell's daughter Stacey Angelone; his brother, John Batton and his wife Kathryn and their son Bryan and his brother Jerry's son Christian Batton.
The family will receive close friends at the Amory Funeral Home on Saturday December 14th from 11:00 a.m. to 1:00 p.m. There will be a Memorial Service on Saturday December 14th at 2:00 p.m. at the Kingdom Hall 111 Brown's Lane Yorktown, VA – all are welcome to attend. There will be a Funeral Reception following the Service at the Edgehill Community Center, 700 Cockletown Road Yorktown, VA 23692. Food and refreshments will be provided. All are welcome to attend and visit with family and friends and share their memories of Larry!!
Flowers may be sent to the Amory Funeral Home or a donation can be made to the World Wide Work of Jehovah's Witnesses at JW.org or the Golden Retriever Rescue, Education, and Training at GRREAT.org.