Kenneth Randal Pritchard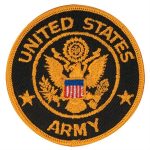 Yorktown, Va. – Kenneth Randal Pritchard, 72, passed away on Wednesday, June 6, 2019. Kenneth was a native and lifelong York County resident. He graduated from York High School in 1965 and was a Vietnam Veteran serving in the U S Army. He retired from AMACO after 20 years of service.
He is survived by his children Barbara Mobley and William Rodney Pritchard and their mother Carolyn Catron Pritchard, 3 grandchildren, Kenny Strickland (Anna), William Pritchard and Olivia Jernigan. He is also survived by his sisters, Tricia Hunter (Ronald), Cindy Mann (Ralph) and Donna Canada (Daryl); 2 brothers, Tommy Pritchard (Brenda) and Eddie Pritchard.
The family will receive friends on Saturday from 7:00 to 8:00 PM in Amory Funeral Home. A graveside service will be held at 3:00 PM in the Mausoleum chapel in Peninsula Memorial Park on Sunday, June 8, 2019.