Katherine Harris Williams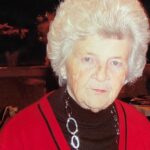 Katherine Harris Williams, 94, of Yorktown, VA, passed away peacefully on July 10, 2023. She was born October 24, 1928. Katherine was loving and kind with a great sense of humor. She will be greatly missed by all who knew and loved her.
Katherine is survived by her son, Eddie Williams (Karen), her daughter, Cheryl Cleghorn (Keith), and her cherished grandchildren Parker Williams (Brianna), Jarrett Williams, Katie Cleghorn, and her great-granddaughter, Tulsi Williams.
She worked many years with the York County School Division making a lasting impact on the lives of many.
Katherine was a long-time member and Sunday school teacher at Dandy Baptist Church.
A visitation for Katherine will be held On Monday July 17 at Amory Funeral Home, at 11:00 a.m., followed by her service at 12:00 p.m., and a graveside service at 1:00 p.m.
Katherine has requested a "fun" service. If you are willing, please be prepared to share a quick, fun memory that you had with her and feel free to wear fun, colorful clothing.