Karen S. Moon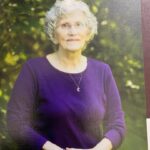 Karen S. Moon, 78, of Franklin, Va. passed away on Sunday, November 6, 2022.
Karen is preceded in death by her parents Karl and Mildred Sandburg; sisters Karlene Miller and Katherine Blackburn; husband Paul R. Moon, and son Brian R. Moon.
She is survived by her daughter Lori Mulkey (Bruce); son Michael Moon (Paula); grandchildren Justin Mulkey (Krista) Travis Mulkey (Bonnie); Jennifer Moon, Ava Moon and Chloe Moon, great grandchildren Rileigh, Landon, Raegan, Aiden and Waylon.
A celebration of life will be held at 1:00 PM Thursday, December 15, 2022, at Coastal Church, 101 Village Ave, Yorktown, Va. 23692.After the service the family will have a small reception at the church.
In lieu of flowers the family request that donations be made to St. Jude, American Cancer Society. Arrangements by Amory Funeral Home, Grafton, Va.