June Rose Bundy Cannon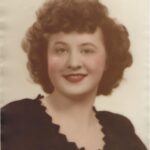 On December 25, 2020 June Rose (Bundy) Cannon passed away peacefully at home.
She was a mother to seven children and the loving wife of William Howard Cannon. June was born on August 28, 1927 in Sabula, Pennsylvania to Guy and Gertrude Bundy. After graduating high school, she was recruited to work for the FBI in Washington DC. It was there that she met the love of her life, William Cannon who was in the Air Force, and they married shortly after on June 4, 1948. They spent many happy years traveling the world, being stationed in places such as Washington DC, Colorado, Louisiana, Kansas, the United Kingdom, Ohio, Washington DC, Morocco, Nebraska, Alaska, and Virginia. Eventually they settled in Yorktown, Virginia, where June spent many years working for the US Postal Service. June was a talented piano player leading the family in sing-alongs, she was an avid reader and lover of books, and also enjoyed fishing, traveling, and baseball.
June is preceded in death by her beloved husband Howard, her parents, her sister Geraldine, and her grandson Chad Cannon. She is survived by her children Jerry (Brenda) Cannon of Hampton, Lynn Cannon of Yorktown, Steve (Becki) Cannon of Savanah, GA, Cindy Creech of Yorktown, Bill (Deb) Cannon of Urbana, OH, Mark Cannon of Richmond, and Cathy Cannon of Suffolk, nine grandchildren, six great grandchildren, and one great-great granddaughter.
A private family service will be held Saturday January 2, 2021 at 11 AM with the Reverend Esther Agbosu officiating. The family is being served by Amory Funeral Home. In lieu of flowers the family requests donations be made in June Cannon's memory to the Salvation Army. Arrangements by Amory Funeral Home, Grafton, Va.