Judith Wade Smith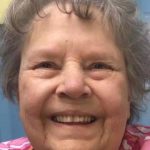 Seaford, Va. – Judith Carol Wade Smith slipped peacefully into God's arms on the morning of November 21, 2019. Judy was born in Poquoson on October 25, 1941 to the late Leroy Marshall and Esther Cox Wade. She was raised in Poquoson until her teen years when her family moved to the Tabb area of York County where she resided most of her teen and adult life. Judy was a graduate of the Class of 1960 from York High School where she met and married her soul mate Tabb Smith that same year. Tabb and Judy made their home in Tabb where they lived with their three children until his death in June of 2003. Judy then became a resident of Seaford, living with her daughter Cammie for a couple of years and then moving to her own home with her daughter Kathy where she resided until her death.
Judy was a lifelong entrepreneur and business partner with her husband Tabb in many ventures including Fair Oaks Family Campground, The Tabb Market in Tabb, The Dixie Dip in Poquoson, BJ's Ice Cream Emporium in Yorktown, and The Pottery Farm Outdoor Restaurant in Williamsburg. The greatest role to her and where she excelled the most was being an amazing Mama and an even greater Umah to her most cherished treasures. Judy had an infectious smile and laugh that brightened everyone's day and will surely be missed.
Judy was preceded in death by her loving husband of 42 years, Harry Tabb Smith, her parents, Leroy Marshall and Esther Cox Wade, sister and brother-in-law Berlie and Johnny Bunting, her brother and sister-in-law Lindy and Lottie Wade, and her caring and beloved grandson Hobie Dunston Kopczynski. Judy is survived by her daughter and son-in law Kathy and Barry Kopczynski, daughter and son-in-law Cammie and Jimmy Butler, son and daughter-in-law Barry and Renee Smith, her five grandchildren Landyn Kopczynski, Marshall Butler, Wade, Cole and Gracie Smith, brother-in-law Preston Smith and his wife Myong and sister-in-law Julie Feeser and many nieces, nephews, cousins, friends and her grand dogs Fawest, Gizzie, and Max.
Services will include visitation at Amory Funeral Home, 410 Grafton Drive in Grafton, VA on Sunday November 24, 2019 from 2pm-4pm and A Celebration of Judy's life at Zion United Methodist Church, 2109 Seaford Road, Seaford, VA on Monday November 25, 2019 at 1pm. Burial will follow at Peninsula Memorial Park, Newport News. In lieu of flowers, memorials are encouraged to be made to the Hobie Kopczynski Memorial Scholarship Fund care of 200 Purgold Road Seaford, VA 23696.