Judith (Judie) Faye Vandervort (Pifer)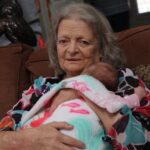 Judith (Judie) Faye Vandervort (Pifer), 71, passed away peacefully on Aug. 3, 2020, at Mary Immaculate Hospital in Newport News, Virginia.
She was born in Reynoldsville, Pennsylvania and lived most of her adult life in Titusville, before settling in Newport News.
She was proceeded in death by her parents, Raymond and June Pifer, sister; Joye Ellenberger and daughter, Theresa Vandervort-Southwick.
Judie is survived by her sisters; Betty Pifer and Gail Henninger and husband, Dave; ex-husband, Bob Vandervort Sr.; daughter, Sandra Caton and husband, Michael; son, Bob Vandervort Jr.; grandchildren, Victoria Garcia and fiancé, Chris Bentley, Mark Southwick, Courtney Vandervort, Nathan Vandervort, Dejah Stanback-Duryee, Ashli Duryee, Abigail Duryee, Daejon Duryee, Raymond Duryee and Zachery Duryee; one great-grandchild, Ariel Bentley and numerous nieces and nephews.
She enjoyed visiting with her great-grandchild, grandchildren and other family members, feeding her squirrels and birds, tending her house plants and playing bingo.
As Judie did not want a formal funeral, the family asks that donations can be made, in her honor, to The Kidney Foundation of Central Pa.
She will be missed by not only by her family and friends, but the residents she lived with and the nurses who loved her at the St. Francis Nursing Home.