Juanita Jean Hawkins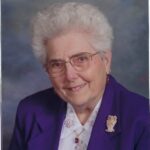 Yorktown, Va. – Juanita Jean Hawkins, 95, passed away on Saturday January 28, 2023. Juanita was a native of Pennsylvania and a Virginia resident since 1956 and moved to Yorktown in 1966. She was a former member of Warwick Assembly of God Church.
She was preceded in death by her husband of 46 years Robert D. Hawkins, a daughter Janice Elaine Lee and a son James "Jimmy" Robert Hawkins, Sr. Juanita is survived by her son Stephen Hawkins (Theresa) and 6 grandchildren and numerous great and great -great grandchildren.
A funeral service will be held at 2:00 PM on Thursday, February 2, 2023 in Amory Funeral Home Chapel. The family will receive friends one hour prior to the service. Burial will follow in Peninsula Memorial Park. Arrangements by Amory Funeral Home, Grafton, VA.