Joyce Riddick Layden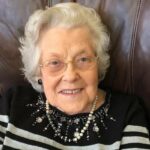 Suffolk, VA – Joyce Riddick Layden, 96, formerly of Deer Forest Road in Suffolk, Virginia, died Tuesday, November 30, 2021 in Yorktown, Virginia.
Mrs. Layden was born in Chowan County, NC on October 3, 1925, and was the daughter of the late John Quincy Adams Riddick and Fannie Bunch Riddick. In addition to her parents, she was preceded in death by her husband, Carlton Phillip Layden; her son, Phil Layden; her sister, Margie R. Hollowell; and her brother, Floyd Riddick.
A retired sales clerk with Leggett's Department Store in Suffolk, she was a faithful member of Eureka Baptist Church, the Ida K. Brinkley Sunday School Class, and in earlier years had served as a Sunday School teacher.
Surviving is her daughter, Sandra L. DeAngelo (husband, Gary) of Queensbury, NY; her son, Reginald Layden (wife, JoAnne) of Williamsburg; five grandchildren, Jennifer Harry, Jonathan Layden, Christy Fitzwater, Andy Layden, and Matthew Powell; and eleven great-grandchildren, Zachary, Jackson, and Ryleigh Harry, Benjamin and Jacob Layden, Grayson and Nolan Fitzwater, and Brodie, Conley, Hannah, and Adelaide Layden.
Funeral services will be held Tuesday, December 7th, at 2:00 p.m. in Eureka Baptist Church, 1601 NC Highway 32 North, Corapeake, NC, and will be conducted by the Rev. Cameron Currin. The burial will be in the church cemetery. Friends may visit with the family at Corapeake Country Restaurant immediately following the service.
Miller Funeral Home, 304 Main Street, Gatesville, is handling arrangements and online condolences may be made by visiting www.millerfhc.com.