John L. Van Riper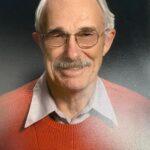 John L. Van Riper died on June 10, 2023.
He is survived by his wife Joanne Van Riper, his three children Karen Van Riper Martin and her husband Shannon; Cheryl Van Riper Walker and her husband Scott; and Ken Van Riper and his husband Dave; stepdaughters Tracey Lopez and Wendy Lopez-Swiatek; grandchildren Rebecca, Samantha, Christopher and Benjamin and stepgrandchildren Justin, Jonah and John, as well as his two sisters Jean Bayless and Esther Kirk.
Born in Rochester, N.Y. on Feb. 7, 1932, he was the middle child of Donald and Phoebe Van Riper. He graduated from Hope College in Holland, Michigan in 1953. He is a U.S. Army veteran and served in Korea.
Jack moved to Virginia with his first wife Judith Van Riper and raised his children there. He worked as a casualty insurance underwriter, a tool buyer for the Defense General Supply Center in Richmond and at the General Services Administration in Washington, D.C. He traveled the state of Virginia as an air tool salesman and then worked at Newport News Shipbuilding in plant engineering/industrial engineering for more than 20 years. After retiring in 1993, he enjoyed traveling with his second wife, Joanne, across the country and abroad. He served as docent at the Mariner's Museum for 25 years.
He was a member of Yorkminster Presbyterian Church since the 1960s, where he served as a deacon and an elder.
Many of his family and friends knew him as "Jack." He was active throughout his life and enjoyed bowling, boating, sailing, tennis, and other activities. He played golf twice a week with a group of friends and shot an 89 when he was 90. He liked visiting state parks, historical sites and museums and fixed cars, read biographies and novels, and did crossword puzzles.
Jack loved spending time with his grandchildren. He enjoyed playing board games and card games, attending sporting events and hosting Grandpa Camp in the summer.
The family will receive visitors at Amory Funeral Home (410 Grafton Drive, Yorktown, VA 23692) from 4 – 5 p.m. on Saturday, July 8. A Celebration of Life will be held at Yorkminster Presbyterian Church (6218 George Washington Memorial Highway, Yorktown, VA 23692) at 2 p.m. on Sunday, July 9, with a reception to follow. In lieu of flowers, please consider donations in his honor to Yorkminster Presbyterian Church, the American Cancer Society, or a charitable organization of your choice.