John (Jack) Joseph Evans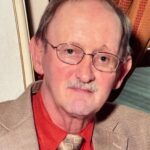 John "Jack" Joseph Evans
Yorktown, Va. – John (Jack) Joseph Evans, 82, passed away on Monday July 17, 2023.
Jack was born and raised in Newport News, Virginia and graduated from Warwick High School in 1961. He was employed by Newport News Shipbuilding as an NDT Inspector for 17 years. He was later employed by the Virginia Electric Power Company as a mechanic until his retirement in 1997. He then found time to support his wife's wallpapering business for a number of years.
Jack loved spending time with his family, watching and supporting his children and grandchildren through their many activities, and traveling which included multiple cruises. Jack and his wife enjoyed finding new places to walk, spending time on the water while living at their home in Gloucester and visiting and donating to numerous casinos.
He was preceded in death by his parents Ira and Virginia Evans. He is survived by his loving wife of 56 years, Jeanne; two sons, Brian (Cindy) and Marc (Kim) Evans; two grandsons, Dylan (Harley) and Casey Evans; three great grandchildren, Braelynn, Julia, and Grace Evans; brother, Marty Evans (Maggie – deceased) of Texas; a niece and nephew, Peg Hernandez of Texas, and John Evans of Texas; and sister-in-law, Janet Coon (Bill – deceased) of Richmond, VA.
The family will receive friends on Sunday, July 23, 2023, from 4 – 6 PM at Amory Funeral Home. A graveside service will be held at Peninsula Memorial Park on Tuesday, July 25, 2023, at 1 PM.
In lieu of flowers, contributions may be made to the York County Department of Fire and Life Safety (P.O. Box 532 Yorktown, VA 23690) or the Brain Injury Association of America (P.O. Box 7416 Merrifield, VA 22116-7416).