John Edward Chandler, Jr.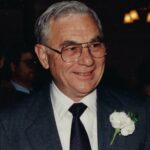 John Edward Chandler, Jr. passed away peacefully December 15th, 2022. He leaves behind his wife Shirley (of Yorktown) and his son's Allan (of Seaford) and John "Jack" (of Boise, Idaho) who will miss him dearly.
During his 88 years, John lived a life full of travel and adventure. Whether it was sailing on the Chesapeake Bay, deep sea fishing off the Oregon Inlet of North Carolina, snowmobiling in Yellowstone, skiing in the mountains of Idaho and Montana, big game hunting in Idaho, cruising the rivers of Europe or simply riding his bike on the tour roads of Yorktown, he knew how to experience where he was and enjoy what was around him to the fullest. He shared many of those adventures with his kids and his wife, Shirley.
Married June 8, 1957, John and Shirley shared 65 wonderful years together, raising two sons, Allan and John (Jack). John and Shirley traveled the globe together but mostly cherished being together at home. They enjoyed long walks at Newport News Park feeding the ducks and the Waterfront in Yorktown.
John was a handyman extraordinaire. He learned many of his do-it-yourself skills while maintaining his parent's rental properties in Petersburg when he was growing up. Whether it was working on cars under the shade tree of his childhood home, wiring an entire house, plumbing, masonry, framing, etc, he could do it all. He even designed the family home that Shirley, Allan and Jack all helped him build in the Marlbank community of York County before a job transfer took him back out to Idaho for a second time in his career.
John had a long and successful career with the Newport News Shipbuilding and Dry Dock Company, commonly referred to as "The Shipyard." Starting off in the Shipyard's Apprentice School in 1953 as a shipwright apprentice. On two occasions, he was loaned to NavShips in Washington DC where he participated in the preliminary design of two aircraft carriers. He ended his career as the Chief Refueling Engineer (CRE) on the USS Enterprise supervising a team of engineers refueling the Enterprise for the last time. He quiped that he started his career hanging off the side of the USS Enterprise, scraping paint to being in charge of a team of engineers refueling the ship at the end of his career.
Mostly, John will be remembered for his gentle soul. He was always available to help out a neighbor in need. From building a garage for his neighbor in Seaford in his younger years to delivering the paper and moving the trash cans from the garages to the curb and back for his neighbors in the Villas at Yorktown in his later years. He had a quick smile that filled his entire face and laughed easily when told a funny story or joke.
John loved dogs too. Gyspy was his last. She was a rescue dog given as a gift to John by his son Allan. She broke the mold for all others and he could never bring himself to get another dog. He got his dog-fix however by walking neighbors' dogs or babysitting family dogs when they were away.
John will be laid to rest in the Blanford Cemetery of Petersburg next to his parents. A private, family graveside service is being planned for the Spring.
In lieu of flowers, his family asks you to consider a contribution in John's name to Village Dog Resource, P.O. Box 141, Lackey, Virginia 23694. John would appreciate knowing other dogs may get the same chance for a great home as he gave Gypsy.