John Earl Hayes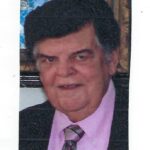 Yorktown, Va. – John Earl Hayes, 81, years old of Grafton, Va. passed away on Sunday, August 21, 2022. He was born December 1, 1940 to Lorraine Wilson and Rembert Earl Hayes. He leaves behind his wife of 62 years Joan, son John, Jr. (Lisa), daughter, Lisa (Bill) and son Brett (Kristi) two sisters Jean Crump and Darleen Evans 8 grandchildren and 8 great grandchildren.
He retired from Newport News Shipbuilding after 43 years and six months in 2002. He was a member of York Masonic Lodge and Progressive Club.
A funeral service will be held at 11:00 AM on Friday, August 26, 2022 in Providence United Methodist Church. Burial will follow in the church cemetery. The family will receive friends one hour prior to the service.
Contributions may be made to Providence United Methodist Church Cemetery Fun, 113 Old Dare Road, Yorktown, Va. 23692. Arrangements by Amory Funeral Home, Grafton, VA.