John A. Lawson, Jr.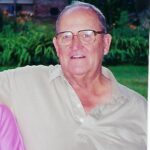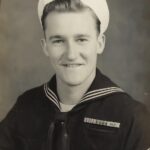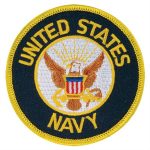 Yorktown, Va. – John A. Lawson, Jr. passed away on Thursday. February 20, 2020. He was the son of the late John A Lawson, Sr. and Clara Carter Lawson. He was born September 3, 1923 and was a native of Newport News, Va. In addition to his parents he was preceded in death by his sisters, Agnes L. Keffer, Eva L. Hicks and Clara L. Zellers, also a grandson Derek Lawson.
He served in World War II from 1942 -1945 on the battleship USS Alabama in the south Pacific under Admiral Halsey. He was in every major battle in the south pacific except one (Wake Island) earning 9 battle stars.
After leaving the Navy, he joined the civil service at Norfolk Naval Air Station where he retired after 36 years of service as an Aviation Metalsmith. He served 10 years as assistant scoutmaster for scout troop 29, Hampton, VA. He was a member of Providence United Methodist Church.
He is survived by his wife of 73 years Mildred Beam Lawson, two sons, John A. Lawson III (Pat) of Williamsburg and Victor B. Lawson (Annie) of Hayes, Va. a daughter, Becky L. Beebe (Will) of Cedar City, UT; 6 grandchildren and 12 great-grandchildren.
The family will receive friends on Friday from 7:00 to 8:30 PM in Amory Funeral Home. A memorial service will be held at 2:00 PM on Saturday at Providence United Methodist Church with Rev. Lisa Blackmonson officiating. A private graveside service with Navy honors will be held in Peninsula Memorial Park.
Memorial may be made to Providence United Methodist Church, 113 Old Dare Road, Yorktown, Va., 23692.