Joanne M. Kondek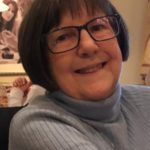 Joanne M. Kondek, 65 entered eternal life on Tuesday, April 24. 2019 at the Hospice House of Williamsburg.
Born in Wilkes Barre, PA she resided in Hudson PA before settling in Yorktown VA for the last 26 years.
A celebration of Joanne's life will be held at St. Joan of Arc Church,315 Harris Grove Lane, Yorktown, VA 23692 on Tuesday, April 30, 2019 with Rev. Michael D. Joly officiating. Friends may pay final respects to Joanne at the Church beginning at 9:00 am and are invited to participate in the Rite of Christian Burial Mass at 10:00 am. Following Joanne's service, friends are invited to gather and reminisce about Joanne at the St. John Paul II center at St. Joan of Arc Church. Final internment will be at St Joan of Arc Columbarium at a later date.
She was preceded in death by her Father, Joseph, Mother Freda and brother Martin. Cherishing her memory are husband, John (Jack) Kondek, daughter Caroline, son John and his wife Melissa and daughter Gina. Grandchildren: Alexa, Emma, Olivia, Elizabeth and Emily.
Joanne graduated from Wilkes University in 1975 earning a bachelor degree in History. She lived her life aspiring to St. the words of Francis of Assisi: "Preach the Gospel at all times. When necessary, use words."
As an active member of St Joan of Arc Church, she looked forward to participating in the annual Vacation Bible School program. Never have the snacks for the children tasted so delicious due in part to the love that Joanne put into making the treats. Smiles were the only reward she looked forward to each day of the Bible School.
Joanne also participated in the young adult religious education program as a religious education instructor.
Through these programs and her interactions with the children of the parish, she affectionally became known as "Nonna" to young and old alike. She has definitely had a hand in cultivating the future family of faith at St Joan of Arc.
The family is respectfully declining flowers and requests that memorial donations be made to the Hospice House of Williamsburg, 4445 Powhatan Parkway, Williamsburg VA 23188, or at williamsburghospice.org in Joanne's memory.
Friends are encouraged to visit www.amoryfuneralhome.com to share memories and words of condolence to each other.