Joan E. Mills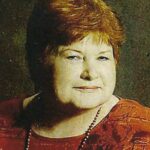 Joan E. Mills, 79, joined her parents in Heaven March 6, 2023. She was born in Newport News, Virginia, but lived most of her life in Seaford. She was predeceased by her parents Francis and Bernice Mills (Frank and Bunny) and several aunts, uncles, and cousins.
A 1961 graduate of York High School, Joan began nursing school at Duke University. A knee injury caused her to rethink her plans. So she left Duke and later enrolled at Lynchburg College where she earned a BA degree in English in 1967. Joan taught sixth grade at Seaford Elementary before joining the staff at Bruton High School where she taught English. She received her Master of Education degree from William and Mary in 1973. Joan's career lasted thirty two (32) years as she served as teacher and mentor for York County Schools.
Joan was a member of Delta Kappa Gamma International, an honor society for educators, as well as York Retired Teachers Association, and both the National Education Association and the Virginia Education Association. She was cited among the Who's Who in American Teachers on several occasions
A life-long member of Zion United Methodist Church, Joan was active in the Ladies Bazaar and United Methodist Women. She served on various committees, the most recent being the Board of Trustees, where she served as Chairperson.
Joan had many interests. She loved to read. She always had a book in her purse or brief case. Her house had shelves of books, of all genres from histories and biographies to the latest fiction. Joan loved crafting, especially crocheting. She collected stamps and coins. Joan would say that she was a philatelist and a numismatist. Joan also liked to read about meteorology and gemology. Because of her range of knowledge and wide array of interests, she could converse on many topics. She will be missed.
At Joan's request, there will be no service. She will be buried at Peninsula Memorial Park. Amory Funeral Home is in charge. Memorials may be made to the general fund at Zion United Methodist Church, P.O. Box 240, Seaford, Virginia 23696.